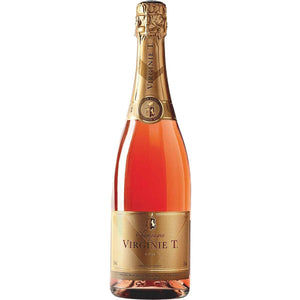 "The elaboration of Champagne VIRGINIE T. Rosé with delicate fruit flavors requires a special attention during the production process which makes it stand among the best.
Aged in our cellar for minimum 5 years, Champagne VIRGINIE T. Rosé has developed very fine bubbles and acquired a beautiful maturity. Its pale pink colour and delicate effervescence makes it an ideal aperitif and also the perfect companion for fruit desserts, intensifying and enhancing the flavours of red fruits and berries.
The grapes that make up VIRGINIE T. Champagne Rosé are derived solely from the cuvee (first flush). They come from 15 crus from the three major regions of Champagne, including 11 grape varieties that are classified «Premier and Grand Cru»."
Champagne Virginie T.
"Light, bright pink. Between a light aperitif and a winey style. Fruit – including red cherries – and firmness in the same sip. With a little grip of tannins on the finish. The dosage is 7g/l. Well-made. The blend is 55% chardonnay and 45% pinot noir from the Grand Cru village of Bouzy."
Ch'ng Poh Tiong