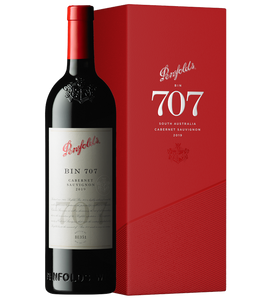 97 points - Huon Hooke
96 points - James Suckling
95 points - Wine Spectator
19/20 points - Jancis Robinson
"McLaren Vale, Coonawarra, Barossa Valley and Padthaway fruit. Matured 18 months in 100% new American oak hogsheads. Such a bold statement of new American oak seems somehow old-fashioned in this day and age of Australian cabernet, and yet there is a comfortable assurance about the irrefutable Bin 707 model, promising that the woodwork will find its place with sufficient patience. The purity and precision of cassis and blackcurrant fruit on display is something to behold. In inimitable Bin 707 form, new American oak rises to the auspicious occasion, propelling and uplifting to mighty effect and monumental tannin impact. Fruit and oak sit apart for now, but each in their rightful place, and, as ever, promise great things indeed in a very long time to come. Line and length of the highest order confirm it will go the distance without the slightest doubt."
97 points - James Halliday
"Sourced from McLaren Vale (41%), Coonawarra, Barossa Valley and Padthaway this vintage, the 2019 Cabernet Sauvignon Bin 707 spent 18 months in 100% new American oak hogsheads prior to bottling. Scents of vanilla, cedar and celery seed seamlessly swirl around dark notions of cassis, plum, coffee and cocoa. There's a touch of mint, but it fits well within the context of the wine. Full-bodied, concentrated and rich, this wine looks to have at least two decades ahead of it. The finish is truly special, with beguiling hints of maple syrup balanced by a smooth, enveloping wash of softly dusty tannins."
97 points - Robert Parker's Wine Advocate