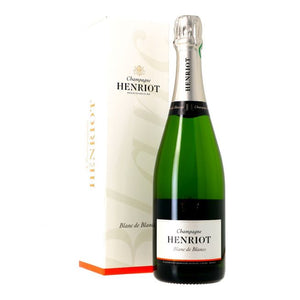 Current stocks are without gift box
Mineral & Complex
"Henriot Blanc de Blancs is the cornerstone of Henriot's signature style showcasing minerality and complexity. It is testament to the sheer virtuosity of the Champagne House with its Premier and Grand Crus vineyards and its rich history, which is inextricably linked to its prestigious chardonnay terroirs.
The Blanc de Blancs blend also contain a small quantity of our prestige Cuve 38 champagne.This wine, made in the style of a perpetual reserve and crafted exclusively from Grand Cru chardonnay, is unique to the Champagne House and expresses its quintessential savoir-faire and originality.
Pale gold, glistening and crystal-clear in appearance. The lively bubbles form a delicate, gossamer cortege in the glass.
The bouquet releases a flourish of minerality and bold freshness, together with aromas of citrus fruits and sun-kissed white peach.A bouquet of fresh flowers unleashes notes of honey- suckle and orange blossom, interweaved with lime flower. Fruit aromas redolent of lemon and dried apricot lead the wave, followed by pastry notes and a typical suggestion of fresh butter.
Initially lively, generous and powerful on the palate.The hint of fresh lemon lingers and dissol- ves into butter-laced brioche notes, extended further by quince paste and acacia honey. Lovely, fresh and quite delicious length on the finish."
Champagne HENRIOT

"Aromas of lemon oil, crisp yellow apple, brioche, rock salt and dried white flowers preface the latest rendition of Henriot's NV Blanc de Blancs, a medium to full-bodied wine with an elegantly delicate mousse that's nicely concentrated, incisive and distinctly saline, concluding with a chalky finish. It's an excellent Blanc de Blancs that comes recommended."
90 points - Robert Parker's Wine Advocate