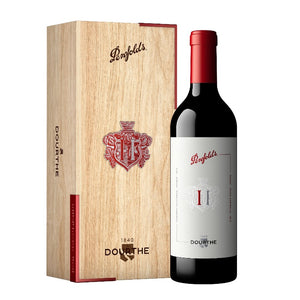 95 points - Tyson Stelzer
94 points - Andrew Caillard, MW
94 points - Decanter
"

Dourthe II stands for two hemispheres, two wineries, two cultures, two worlds (new and old). The 2019 Dourthe II is a blend of 59% Cabernet Sauvignon, 29% Shiraz (from South Australia) and 12% Merlot and was bottled in Australia due to the Australian fruit component. Penfolds has a disruptive streak that is clear—bottling wine in other countries, taking the iconic and idiosyncratic Australian blend (Cabernet/Shiraz) to foreign shores and back again... Here, the American oak emerges through the finish and provides a familiarity in the context of Penfolds—it grounds it. The tannic structure is fine and tightly knit; the fruit speaks of cassis, blueberries, graphite, black olive, licorice and star anise, and there's an injection of tobacco leaf and cigar box too... a melding of two worlds. It seems to me that this wine still has a way to go; combining Australian Shiraz and Bordeaux Cabernet Sauvignon (and Merlot) creates something of a stylistic clash in the wine, but the construction—the winemaking—knits it all back together. We know nothing about how this wine will age, but all the components—regional and winemaking—suggest a comfortable couple of decades.

"
94 points - Robert Parker's Wine Advocate


"

A wine from northern and southern hemispheres, old and new world. Breaking the rules or writing new rules? The interest here is as much about the success of the blending relationship of the two regions as it is about all the specific tasting elements. The breakdown is thus: 59% cabernet sauvignon and 12 % merlot from Bordeaux, with the 29% shiraz component from the Barossa Valley. The French wines were made at two cellars owned by the House of Dourthe, the shiraz at Penfolds' Nuriootpa winery. The three parcels were blended and bottled in South Australia. In the glass, the first messages are all about dark fruits, mint and herbals, licorice as well as Middle Eastern spices.  Oak makes its presence felt after 18 months in French and American barrels, a good percentage new. The wine is still very tight with tannins in charge of the palate – put a bottle way back in the waiting room as there are years ahead for the fruit balance to rise and shine.
"
93 points - Winepilot