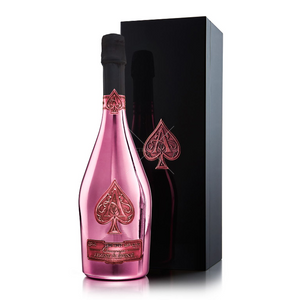 92 points - Decanter
90 points - Robert Parker's Wine Advocate
 
Armand de Brignac Rosé was introduced soon after the Gold, and was created as a unique expression showcasing a distinct wine-like quality. The Armand de Brignac Rosé is crafted by adding 15% of still red wine to the final blend. This Pinot Noir is harvested from old vines that produce fruit with great flavour intensity. This provides a deeper texture to the champagne and richer red fruit nuances.

"Armand de Brignac Rosé is among the finest examples of the famous pink Champagne blend ever conceived, and is packaged in a brilliant pink-gold bottle with matching adornments.
Its beautiful color is achieved through assemblage, the process by which sparkling white wine is blended with a proportion of still Pinot Noir wine. Our Pinot Noir is picked from old -growth vines grown specifically for use in Rosé Champagne.
Our Rosé is announced with a rich bouquet of red fruits with delicate, smoky grilled notes behind. It is fresh and full-bodied on the palate with aromas of strawberries and blackcurrant, and is lingering and complex in its finish. Armand de Brignac Rosé is produced in extremely limited quantities – even by comparison to our boutique Brut Gold."
Winemaker's notes