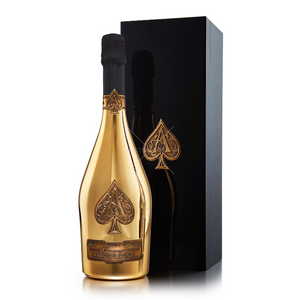 93 points - Robert Parker's Wine Advocate
Armand de Brignac Brut Gold NV is the winery's pioneering cuvée and remains a signature of the collection. Bottles are coated in metal and adorned with handmade French pewter labels, crafted with great care - no more than 20 bottles are produced hourly, ensuring that each bottle is an exclusive work of art. The house is also renowned for its vast selection of grand formats, from the 1.5L magnum to the sought-after, customizable 30L Midas.

"Peach, apricot and red berry aromas are followed by crystalized citrus, orange blossom and hints of brioche. The palate is rich with cherries, exotic fruits and a touch of lemon, vanilla and honey. The mouth feel is soft and creamy, with a hint of toastiness, from the unique Armand de Brignac dosage which is aged for one year in French oak barrels. Drinking beautifully now or can be rested under ideal cellaring conditions, until 2025.Ideal as an aperitif or pairs perfectly with seared scallops, roasted quail and fresh water fish.Blend: 40% Pinot Noir, 40% Chardonnay, 20% Pinot Meunier"
Winemaker's notes