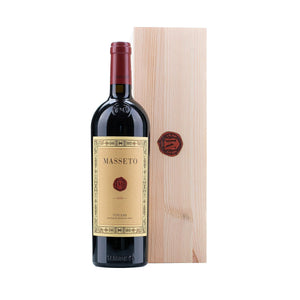 100 points - Jeb Dunnuck
98 points - Decanter
97 points - Wine Spectator
95 points - Wine Enthusiast

"This is so solid and powerful with incredible vertical dense that goes down and down on the palate. Compacted and thick with caressing and polished tannins that are powerful yet refined. Super concentration yet agile and energetic. This is a wine that needs time to come together and resolve all of its amazing components. Reminds me of the legendary 2001. Try after 2023."
100 points - James Suckling

" Masseto has pulled off back-to-back home runs. This is the first time that an Italian wine has earned 100 points in successive vintages. The 2016 Masseto is a thunderstorm of emotions, but it manages to keep them under perfect control. Like the 2015 Masseto before it, this vintage is a seamless wine of the highest pedigree. It represents an encore performance, continuing the string of successes that is bringing Italy to the forefront of the wine world. The first thing you'll notice is the thickness and concentration of the fruit that makes an immediate impact on all the senses, in terms of appearance, aroma and mouthfeel. There is no overstating the sheer power and richness of this iconic vintage of Italy's groundbreaking Merlot. Despite that considerable mass, this Masseto remains delicate and graceful. You gain better perspective as the wine opens in the glass and reveals deeper layers that were not immediately apparent on first nose: dark fruit, spice, sweet tobacco and black cherry. There is great tightness and laser focus to the fruit. I tasted the 2016 and 2015 vintages together for comparison when I scored this wine, and then I tasted this 2016 edition alone about a month later to confirm my impressions. These vintages are identical twins, two perfect wines."
100 points - Robert Parker's Wine Advocate