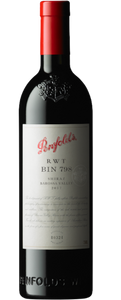 96 points - Huon Hooke
96 points - James Suckling
96 points - Wine Spectator
95 points - Robert Parker's Wine Advocate
94 points - Vinous
93 points - Jeb Dunnuck
93 points - Wine & Spirits
92 points - Wine Enthusiast

"

Deep, vibrant colour; the bouquet is very expressive, speaking of a legion of black fruits, licorice, plum and spice, none of which prepare you for the sheer power of this amazing wine, and its untold depths.

"
98 points - James Halliday
"

A deep, dark, brooding ruby in colour, this RWT 2017 (from 'Red Winemaking Trial' originally developed in 1995) displays an intense yet subtly peppery and tarry fragrance with an added veneer of vanilla from its 15 months in new French oak. That intensity splashes onto the tongue in a profusion of flavours mingling opulently ripe black cherry with pepper, vanilla, tarry spice and herbs in a polished Barossa red that, thanks to the cooler growing season, shows an elegance of texture and balance through all the richness. At the same time, it has a seriously tongue-coating, chocolatey firmness in Barossa-meets-Côte Rôtie style. Chicken and game are great food options here.

"
96 points - Decanter