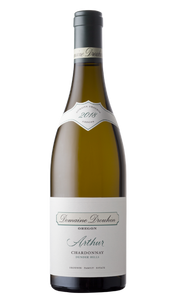 94 points - James Suckling


"Partially fermented and aged in French oak barrels, with the rest fermented and aged in stainless steel and then blended together before bottling, the high-pitched and mineral 2021 Arthur Chardonnay explodes with aromas and flavors of dried green apple, fresh white peach, white flower petals, and blanched hazelnuts. The mouthfeel is precise, balanced, and elegant, with perfect levels of acidity, a medium body, and a lovely green apple and dried thyme finish. The Arthur showcases what a talented winemaker can do with Chardonnay in Oregon."
95 points - Stephen Tanzer's Int'l  Wime Cellar


"Sourced from some of the oldest Dijon-clone stock in Oregon, this mouthwatering, voluptuous Chardonnay offers layers of fleshy white peach and Meyer-lemon flavours against a perfumed, blossomy backdrop. Vinified in 50% French oak (30% new) and stainless steel, it's a bold, ample wine marked by veins of smoky minerals and finishing on lingering tones of honey and crème anglaise."
94 points - Decanter